(303) 881-1333
Short Sale
You are here : Home > Short Sale
SHORT SALE – HOW IT WORKS
If you or someone you know is going through the pain and hardship of an impending foreclosure, I am here to help.  As a CDPE, I specialize in Short Sales.  Please don't wait until the last minute, there are solutions to get you back onto the road to recovery.
A short sale is the process through which your mortgage company agrees to settle for less than what is owed to them. They do this as an alternative to the expensive and time consuming process of foreclosure. Each mortgage company has their own set of processes through which they decide whether or not to accept a short sale, and while there are many similarities, each has its own requirements for approval. As a third party mediator, we have a distinct advantage in negotiating with your mortgage company.
First you will need to fill out the application forms that we will provide to you. Once all of the forms are completed and faxed back to our office we can then open a case file and begin the process of analyzing your situation and making contact with the mortgage company.  Some clients would rather me personally pick up the documents due to confidentiality, so let me know if that's better.
Once our staff has made contact with the mortgage company, they will issue a "work~out package". This is the lenders list of instructions and requirements for considering a short sale.
Some of the things the Bank will likely require are:
1)   Full disclosure of your current financial situation.
2)   Hardship letter.
3)   Last 2 pay~stubs for all working borrowers (including L&I and unemployment benefit.).
4)   Last 2 years tax returns.
5)   Last 2 bank statements.
6)   Last 6 months of Profit and Loss statement (if self employed)
7)  Authorization to disclose personal information.
The lender will likely require additional information, which we will collect from you, and review before submitting it to the lender. It is very important that you or your client not discuss anything with the lender from here forward. Should you or your client be contacted by one or more of the lien holders, please inform them that "The Short Sale Company" will be handling all negotiations, and that you would prefer they not contact you any further.
To get more insight about a short sale go to:  http://denvershortsalesrealtor.com/
IS A SHORT SALE THE BEST OPTION FOR YOU?
Now more than ever, people all over the country have been suffering from financial distress. With loss of employment and poor mortgages increasing among other things, the real estate market appears to be a disaster. Unfortunately, over one out of every three home owners' debt greatly oversees the value of their home. Keep in mind too, many homeowners feel obligated to dish out money that they do not have so that closing is possible if they were to sell their property. In some states, one/fifth of the homeowners today turns out to be delinquent when paying their mortgages. If you have found yourself trapped and you have no choice but to sell your property, do not get the impression that you are secluded from all other homeowners. As a Denver Short Sale Specialist, I am here to inform you of all of the options that you may qualify for and offer you assistance at no cost; which has helped many Denver homeowners escape the disaster of a Colorado foreclosure. You can save your credit with my help, as well as dodge foreclosure and be off to a new start.
Established in 2002, I have faithfully represented Buyers and Sellers in real estate throughout the Denver-metro area. I have been able to incorporate my previous experience as a Mortgage Banker (7 years) and Bank Asset Manager (3 years) into my growing Realtor service. I am a CDPE (Certified Distressed Property Expert) and I am here to help you. For Homeowners experiencing hardship with their mortgage, feel comfortable knowing that I have an extensive background on the bank's Short Sale procedures and required documentation to get the short sale accepted and successfully closed.
What exactly is a Denver "short sale" in Real Estate?
A short sale is a process of which you sell your home for less than what it is worth. Short sales often occur in real estate when a lender comes to agreement in accepting a shorter pay off amount on a loan rather than what is owed to their property. When a Colorado short sale is in action, the borrower will be indebted more on their loans and liens versus their property's worth at its current market value. Also, a lender will only agree to a short sale generally when the borrower can give account that they are in some type of hardship.
How do I qualify for a short sale in Colorado?
There are normally three qualifications required for a Denver short sale. First, there is financial hardship. Such hardships that qualify are: loss of employment or income, divorce or separation, relocation or job transfer, property in need of repairs without resources to make repairs, major sickness and medical expenses, death of a family member, vacant rental properties, etc. The next qualification would be that the proceeds of the sale of the property, after all closing costs are paid, are less than the amount currently owed on the home. The final qualification would be Financial Insolvency (no other major assets).
What are the benefits to doing a Denver short sale?
A great advantage you will get from short selling your home is that your record will usually recover within two years, which will give you the time to pay off old debt, establish your credit once again, and qualify for loans. Simply put, your credit history will read as "settled in full" or "paid as negotiated", however, it will not be displayed as "short sale". A short sale is not an actual item on your credit so it will usually not affect any future employment where as a Denver foreclosure keeps its title while potentially turning away employers, or even sacrificing your current job title.
Whenever foreclosure appears to be a possibility on a homeowner's record, it is wise to do as much research on a Colorado Short Sale Realtor before a decision is reached. In the event of choosing a short sale, a short sale specialist is the correct answer to your worries. A qualified and highly trained short sale Realtor will walk you through the steps of the short sale process while being responsible for all negotiations on your behalf.
Can my current Denver short sale Realtor® help me? Antioch Short Sale Realtor
Look carefully at this question. Short sales were specifically designed to be cared for by experienced Colorado Short Sale Agents who have achieved many short sales under their belt and can display the evidence. There are Short Sale Realtors who brag of taking on a short sale, but keep in mind to examine the so called proofs to those claims. Starting a short sale only to see it rejected would be heartbreaking so don't let an incompetent Realtor who claims of being able to bring you to a successful completion of your short sale fool you. Once you seek out a Colorado Short Sale Specialist, make sure you have a list of questions you would like them to answer and be sure you are at complete ease with their assistance. Remember, proper training is important for the short sale process; however, I do believe there is no substitute for experience. A weekend training course does not make somebody an expert in short sales. I am a Denver short sale specialist and can offer you no cost assistance to guide you in the Denver short sale process.
---
READY TO TAKE THE NEXT STEP?
Don't worry. The next part is easy. Just click the link below and fill out the form with your contact information, and I will contact you to talk about your specific situation.
Every situation is different and we know that you have questions. I am here to answer your questions and present the options for your individual situation.
No Pressure – If you feel that you want to move forward I will let you know the steps that are required. If you don't think that I am the right solution to fill your needs … THAT'S O.K. No high pressure, no arm twisting, no barrage of endless follow up phone calls. Either I am the right solution for you, or I'm not … the decision is yours!
If you or someone you know is going through the pain and hardship of an impending foreclosure, I am here to help.  As a CDPE, I specialize in Short Sales.  Please don't wait until the last minute, there are solutions to get you back onto the road to recovery.
Click here to have me contact you.
Or Click the Short Sale Specialist Network logo below to learn more.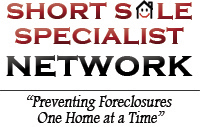 Affiliations